PLLC owners must register their business with the IDFPR, in addition to their personal registration.
The IDFPR started cracking down on PLLCs a couple years ago.
The registration process is obscure and hard to navigate, and help is hard to find.
So, you have a new PLLC. Congratulations! Whether you just formed it with the Secretary or recently converted your LLC into a PLLC, you will need to register the new entity with the IDFPR. While we can't help with your IDFPR PLLC application because it's behind a login screen for the business owner's individual license, you will find below a few tips that may help you go through the process a bit more smoothly. This is not a thorough review of the IDFPR application process. Each application is different, and you may not find all the answers to your specific questions, but hopefully it will clarify certain steps where you may hesitate on how to answer.
Creating an account for your PLLC
Step 1: To get started, go to: https://online-dfpr.micropact.com/
Step 2: Make a new account. Even if you already have an account for your personal IDFPR registration, you need to create a new one for your PLLC. Create an account by clicking on MY ACCOUNT at the top right of the home page. Then click Register next to "Don't have an account?"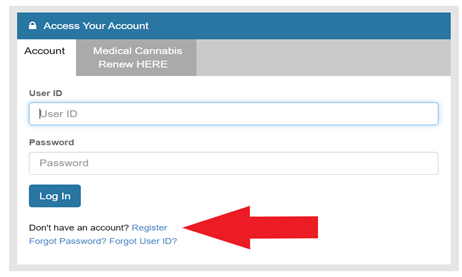 Step 3: Follow each step to create your PLLC's account:
On the "Register New Account" page and under Register As, select Business.
Since you have not registered this business before with the IDFPR, scroll down and select No before clicking Next. Enter a user ID, email address, and password (twice).
Fill out the other relevant fields.
Using the three drop-down menus, choose three Secret Questions and fill in the answers in the fields to the right. Fill out the Captcha verification at the bottom of the page.
Step 4: Verify your email if prompted. This means that the program will send you a link to your email address to verify that it is your email address. Go to your email account, click on the email, and open the link.
Notes on email verification:
It can take up to 10 minutes for the email to send.
Check your spam filter for the verification email.
If you still can't find the verification email, click the Generate E-mail button at the bottom of the page and to send a new email.
NOTE: Clicking the Generate E-mail button invalidates all prior verification emails, so be sure to click the most recent link.
Registering your PLLC
Step 5: At this step, you've logged into your business account. Once your email address has been verified, hover your mouse over Online Services at the top of the page. A menu should appear. Click Create/Continue Application under "License Application."

Step 6: On the next page, scroll down and click on Limited Liability Company. (Yes, even though you just got a PLLC, the IDFPR still refers to LLCs!) This will expand a small section of the site. In that section, click Start.

Step 7: The next page has instructions for a Limited Liability Company Application. Read them, then scroll down to the bottom of the page and click Next. On the following page ("Renewal Attestation"), click Yes if you are registering a new PLLC. Then click Next.
Step 8: The next page will ask for your Credential Office Location. Type in the addresses that you included on your official business formation documents registered with the Secretary of State.
Notes:
The Address Name is the name of your PLLC.
Sometimes the program will offer you a different version of your address.
Step 9: For the "LLC Articles of Organization – Domestic" page, enter the date of formation of your PLLC. You can find this at the top of the copy of your Articles of Organization that were filed with the Secretary of State. See the image below for reference:

Step 10: Next you need to upload a PDF of your approved Articles of Organization. You need to upload the version that was returned by the Secretary of State, with their stamp in the upper-right corner (see the image above). In the green box, click Choose File and select the PDF of your Articles of Organization from your computer's files.

The name of the file should appear in the green box once you have selected it.

Then click Upload Document. Above the box, you should see the name of your file in blue. If you uploaded the incorrect file, you can click the trashcan to delete it, then upload the correct file.

Step 11: On the next page, if you plan to operate under an Assumed Name (also known as a DBA), click Yes. If not, click No. Then click Next.
Step 12: In the LLC Ownership Information section, you need to show that the business owner(s) (you and/or your partners) has a professional license in the field your business will be conducted in (for example: if you're starting a nursing agency, you need to show that you are a registered nurse by providing information from your nursing license). To do this, you will need to look up your license on the state's database.
Start by clicking Add.

On the "License Lookup" page, select your license type from the menu, enter your license number and your name, and click Search.*

Once your license comes up, click Add to the left of your name and click OK. Repeat the same process for the licenses of your partners (if applicable). Then press Next.
On the organizing attorney page, click No.
On the final page, certify that the answers on your application are true and that you understand that the fee is non-refundable by answering Yes, and Yes, and then type your name and the date.
*Notes:
You do not need to enter every piece of information the page asks for.
Searching your license type, first name, and last name should be enough. If it isn't, enter your license number as well.
If you do enter your license number, do so without any dashes or periods.
Lastly, you will review everything you've entered so far. If everything looks good, click Proceed to Payment and then click Pay Invoice. Enter your billing information and your credit card information.
And with that, your PLLC should be on its way to IDFPR registration! The process can take a couple of months, so stay patient. It's a good time to get any employment documents or client contracts you need. We get this question a lot, so please comment on this post and share it around. Your fellow licensed professionals will appreciate it.
Please note that we wrote this writeup based on our last glimpse behind the login page, and as we only irregularly have such access, this post may be out of date by the time you read this. If you notice incorrect, please let us know. We might not get access again for a little bit and want to keep this article as accurate as we can! We'd really appreciate your feedback on what worked for you and what didn't. You can email us at info@gglawoffices.com.