G & G Law, LLC®
We are small business lawyers in Chicago's neighborhoods and suburbs. We work with small business owners just starting out to established businesses with millions in revenue.
Our attorneys are responsive and have a deep understanding of closely-held business owners. We have common-sense fees that are fair and transparent.
Our promise is to respond in one business day.
Legal Services for Small Businesses
Get going and keep growing
Our goal is to build long-term professional relationships with our clients as their trusted legal counsel. We are committed to developing effective, practical solutions with our clients to protect their businesses and decrease legal risks, allowing them to focus on growth from formation to exit.
We have an Outside General Counsel Package for established businesses and an easy step-by-step process to help new businesses get started. We have experience in LLC formations, operating agreements, partnership agreements, bringing on investors, non-compete agreements, contracts, trademarks, intellectual property, employment issues, and buying and selling businesses.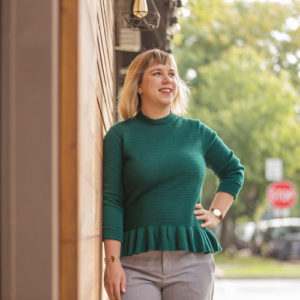 Michelle Green
Founding Attorney // Owner
Michelle started G & G Law in 2011 with a mission to make legal services accessible for small businesses. She gained incredible experience helping to bootstrap her other company from a 2-person tutoring operation to a multi-million dollar online learning company. Her clients benefit from her unique experience wearing two hats: both an attorney for her clients and an owner of two successful companies.
Recent Posts
Ian Saderholm
PLLCs now required. Professionals licensed by the IDFPR: there has been a major change to the LLC statute in Illinois. It likely affects you and your business. Previously, licensed professionals were able to form their [...]
Ian Saderholm
In the last bit of employment news last week, the BACP reminded employers of the Anti-Retaliation Ordinance. Enacted in response to the coronavirus pandemic, the Ordinance protects workers from retaliation for obeying certain health orders [...]