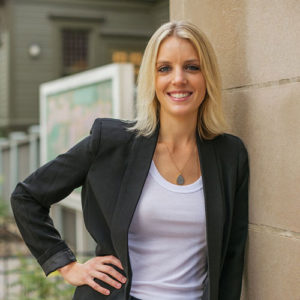 Katie joined G & G Law, LLC as an attorney in September 2018. Prior to joining G & G Law, Katie worked at a prominent Chicago domestic relations litigation firm, where she represented many business owners through the divorce process. As a domestic relations attorney, Katie honed her client management and business acumen through the litigation and negotiation of divorce cases. Katie loves working one-on-one with clients to help come up with creative solutions to their problems, and she was especially drawn to G & G Law's vision of expanding access to quality business legal services.
Katie graduated from the University of Michigan- Ann Arbor in 2012 with dual degrees in Political Science and Women's Studies. After graduating from Michigan, Katie received a merit scholarship to attend Loyola University Chicago School of Law. During her first year at Loyola, Katie received the CALI award for the highest grade in the class in Legal Writing. In her final year at Loyola, Katie received the CALI award for the highest grade in Advanced Issues in Domestic Relations Law. She served as a legal writing tutor for first-year students, as an editor for the Public Interest Law Reporter, and authored two articles that were published in the Fall 2013 and Spring 2014 issues. Katie graduated from Loyola University Chicago School of Law in 2015 and was sworn into the Illinois Bar that November.
Currently, Katie leads G & G Law's expansion into cannabis and CBD business law. She has guided numerous businesses through the licensing application process in Illinois, including for dispensary licenses and craft grow licenses. She is especially knowledgeable about the social equity intricacies of the law. Other areas of focus include state applications, business formations, community engagement and involvement, and the zoning process. Katie and G & G Law are members of Illinois Women in Cannabis, a non-profit organization focused on connecting and supporting women in the cannabis industry.
Katie lives in Edgewater and loves it! She also has soft spots for sushi, Detroit-style pizza, long bike rides through the city, football season, and the Mitten State (Go Blue!).